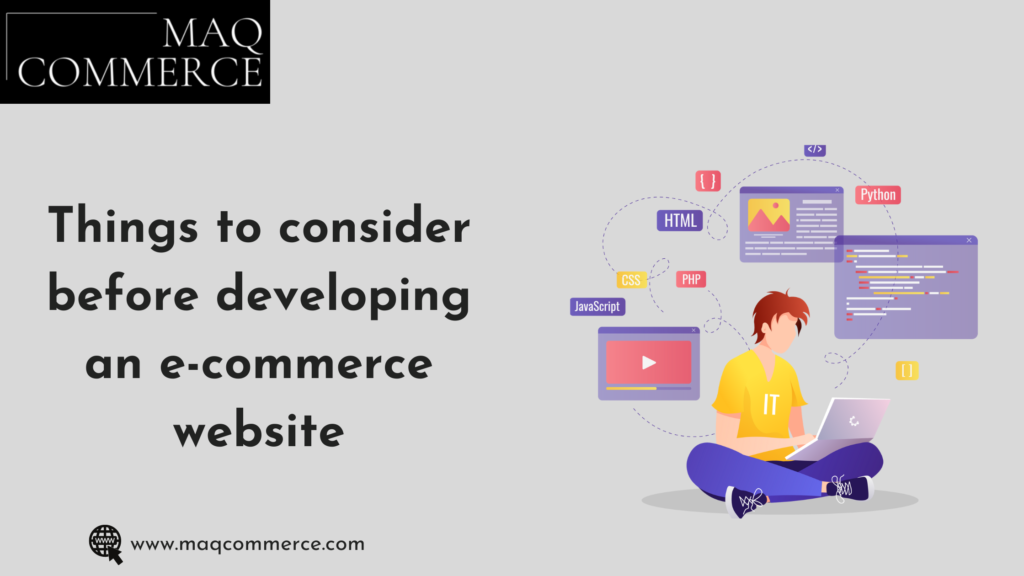 Before you begin with the e-commerce web development process, one of the most important things that you have to conduct is a thorough analysis. And the research your business industry. You must understand the various loopholes and take into consideration the target customers for your industry. Delve deep into their preferences, age, and other factors that will help you develop product categories, descriptions, payment gateways, product images, and other aspects effectively.
Attend to the target audience's needs: Once you understand what you have to sell, it is now vital to prioritize the potential customers. How do you do this? You have to understand their culture, geography, demography, and purchasing inclinations. The best thing is to develop an engaging feedback form and collect customer feedback directly from them. That will allow you to create a set of appropriate responses that will, in turn, help you to design your e-commerce business.
Determine your brand and plan a content strategy: Without proper branding and content strategy, you will never be able to reach out to a plethora of people. Think about all the successful companies, such as Amazon, and their brilliant logos, product details, product reviews,
visual images, emotional connotations, wish lists, and more than making them successful. Similarly, it would be best if you now considered these aspects, such as building a remarkable logo, choosing the voice for your company, and establishing a strategy for growth and development.
Mind your e-commerce website development budget. It is always easy to go overboard with your account, especially in the developmental stages of your e-commerce store. However, it would help if you were very cautious about staying within the stipulated budget and employed strategies to help you do so. It is always advisable to revise your budget every time you make a fiscal decision.
Bear in mind the competition: a business is all about standing out from your competitors. Hence, you need to analyze their working segments by applying the relevant catchphrases in a browser. Take into consideration the various promotional tools and features employed by other business owners to attract customers. Are they using social media, e-commerce email marketing, or something else? How do they design their product pages? More importantly, you must also pay attention to the technical aspects, such as the hosting tool, domain name, content management system, or other add-ons that they are using.
Create an MVP (Minimum viable product): You need to understand that the essential function of an e-commerce store is to sell goods. On the other hand, the goal of an e-commerce MVP is to assess the potential of a particular business to encourage people to buy the goods and services being provided to them. Suppose you aim to create a creative and innovative shopping platform with a high conversion rate, backed by a special algorithm that is set to provide a fantastic user experience and the best products. In that case, you need to enlist the help of an MVP.
Train your team: If you want to increase sales and volume with time passing, you should have dedicated SDRs. Before investing in a project, make sure you have the right talent before the launch. Sometimes you might face some challenges with productivity and efficiency in your team. In that case, you should invest in both the sales process and team training. Here are some of the best sales blogs that can educate your team and give you perspective on what to adjust in day-to-day operations to achieve the best results in e-commerce.
The benefits of custom e-commerce development services
Benefits of custom e-commerce development services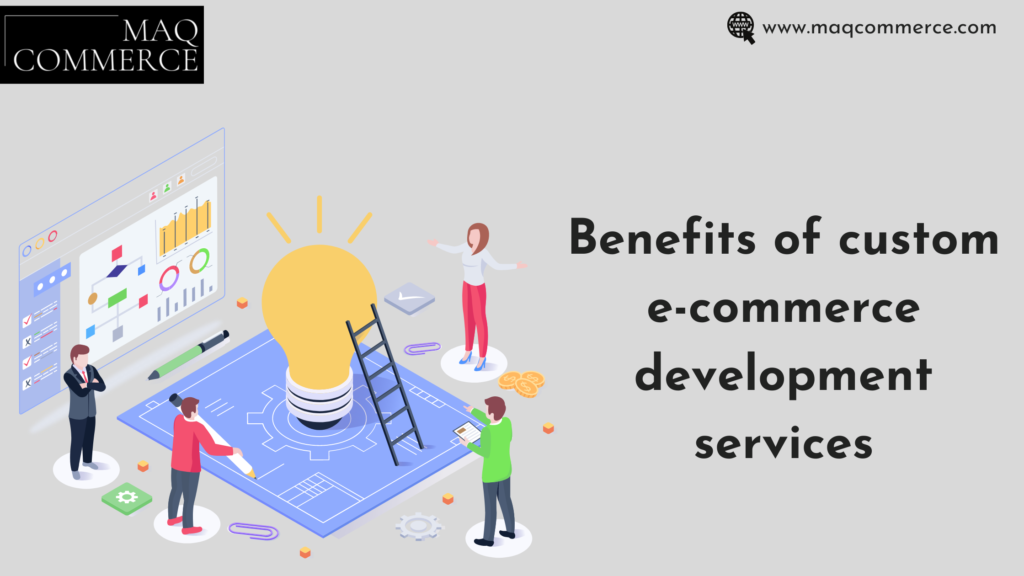 An off-the-shelf e-commerce product may sometimes seem highly lucrative as it is easy to handle and very affordable. However, people do not seem to understand that a generic product can cost more money in the future. The advantages of custom e-commerce software development are as follows:
Improvement in the Bounce Rate and Conversions: With a customized e-commerce service, you will be able to satisfy your customers better, leading to more conversions as well as an increase in customer loyalty.
Better Search Engine Optimization: An off-the-shelf e-commerce product is produced for the masses and hence only has generic SEO features that are not geared towards a particular company or business. With a customized product, you can expertly handle your search engine optimization needs and other digital marketing parameters specifically for your industry.
When a customer uses an e-commerce platform, they might come across various front-end and back-end requirements in the form of checkout, payment options, customer support, and more. One may need vetting before buying a product, and the other may need their credit history checked before a large transaction, which is possible with a custom e-commerce website.
Integration with your Business: The e-commerce platform may need to integrate with your business model and e-commerce marketing strategy for optimal operation. It is possible only with a custom e-commerce platform and not with an off-the-shelf product.
Build an attractive appearance: You will be able to customize the look and feel of your e-commerce site with high-quality images, an exemplary user interface, a seamless checkout process, etc., on desktops, laptops, smartphones, and other mobile devices with the help of a customized platform.
Get Easy Updates: Old technology on your e-commerce site can bring it down. With a customized e-commerce site, you will be able to update to the latest technology, providing your customers with better performance and functionality.
MAQCOMMERCE provides the best e-commerce website development services. If anyone wants to know more about e-commerce development, visit https://www.maqcommerce.com/ or connect at +971 55 4943599 email: info@maquae.com.
Summary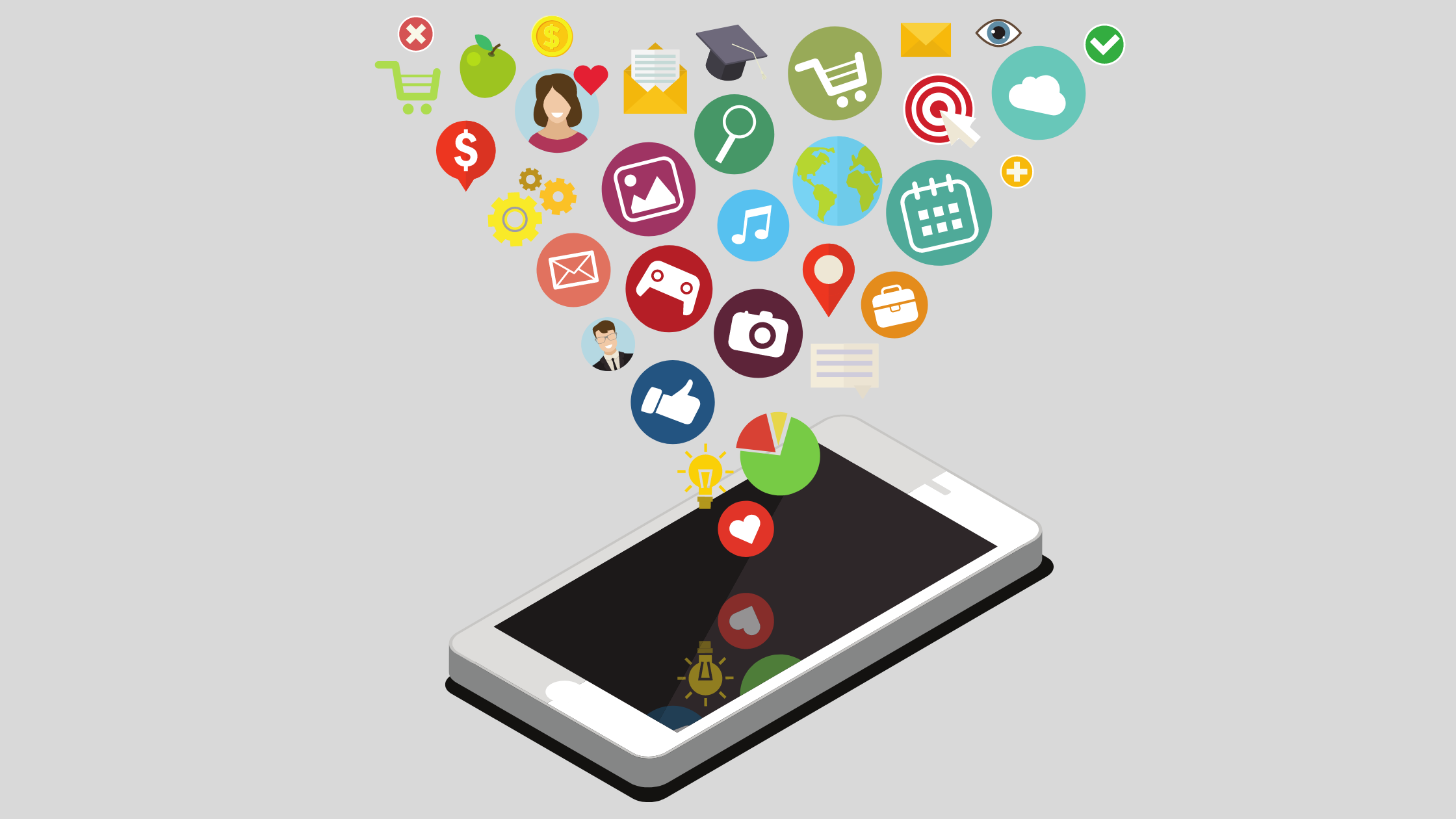 Article Name
Things to consider before developing an e-commerce website: e-commerce development
Description
In this blog, we discuss the Things to consider before developing an e-commerce website, and e-commerce development.
Author
Publisher Name
Publisher Logo